Cassini approche Saturne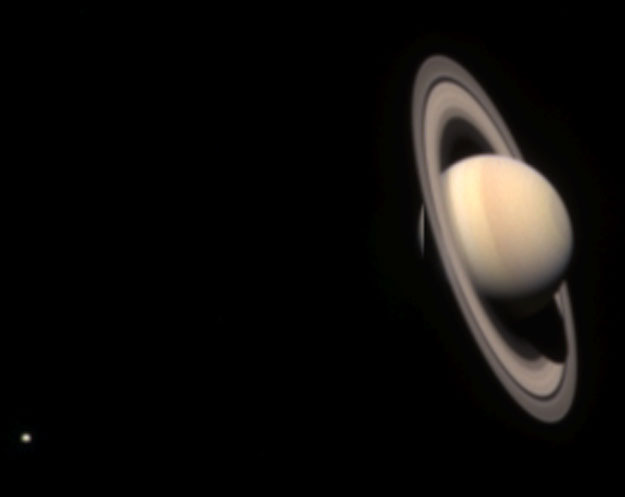 Cassini, une sonde automatique lancée en 1997 par la NASA, est maintenant assez proche pour résoudre plusieurs anneaux et lunes de sa planète de destination : Saturne. La sonde est à environ deux fois la séparation Terre-Soleil de la géante cerclée. Le mois dernier, Cassini a pris plusieurs photos lors d'un test technique. Ces images ont été combinées pour réaliser un compositage couleur à haut contraste visible sur la photo ci-dessus. Les anneaux de Saturne et le sommet des nuages sont visibles à l'extrême droite, tandis que Titan, sa plus grande lune, est visible sous l'aspect du petit point en bas à gauche. En arrivant près de Saturne en juillet 2004, l'orbiteur Cassini commencera à tourner et à étudier le système saturnien. Plusieurs mois après, une sonde appelée Huygens se séparera et essayera d'atterrir à la surface de Titan.
L'image d'astronomie du jour (Astronomy Picture Of the Day - APOD)
Traduction réalisée par Laurent Laveder
D'autres images d'astronomie...
Ailleurs sur le web