Assister à la naissance des premières étoiles
Comment les premières étoiles se sont-elles formées ? Pour aider à le découvrir, la simulation informatique SPHINX de formation d'étoiles dans l'univers primordial a été créée, dont certains résultats sont présentés dans cette vidéo. Le temps écoulé depuis le Big Bang est indiqué en millions d'années en haut à gauche. Même 100 millions d'années après le Big Bang, la matière était trop uniformément répartie dans le cosmos pour que des étoiles naissent. Outre le rayonnement de fond, l'univers était sombre. Bientôt, de légers amas de matière riche en hydrogène gazeux commencent à se fondre dans les premières étoiles. Dans la vidéo en accéléré, le violet désigne le gaz, le blanc la lumière et l'or un rayonnement si énergétique qu'il ionise l'hydrogène, le brisant en électrons et protons chargés. Les régions dorées signalent également les étoiles les plus massives qui meurent en puissantes supernovas. Le cercle en médaillon met en évidence une région centrale qui devient une galaxie. La simulation se poursuit jusqu'à ce que l'univers ait environ 550 millions d'années. Pour évaluer l'exactitude des simulations SPHINX et des hypothèses qui les sous-tendent, les résultats ne sont pas seulement comparés aux observations actuelles, mais seront également comparés à des observations plus directes de l'univers primitif prévues avec le télescope spatial James Webb de la NASA.
L'image d'astronomie du jour (Astronomy Picture Of the Day - APOD)
Traduction réalisée par Didier Jamet
Dans notre dictionnaire de l'astronomie...
D'autres images d'astronomie...
Ailleurs sur le web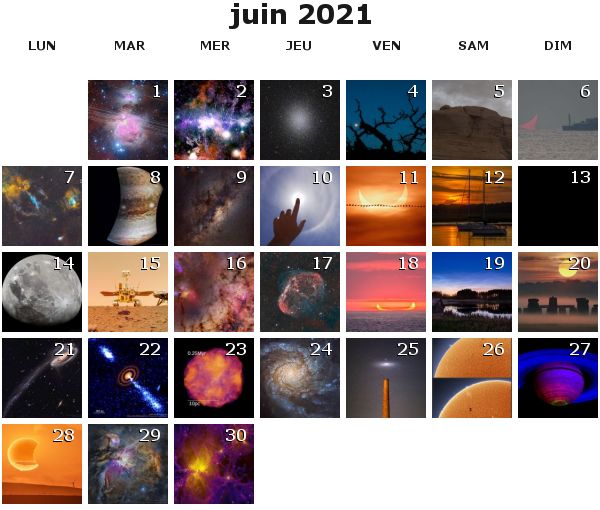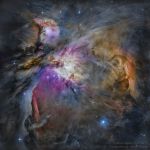 image précédente
Nébuleuse d'Orion : une vue d'Hubble
Peu de panoramas cosmiques stimulent autant l'imagination que la nébuleuse d'Orion, au bord d'un nuage moléculaire à seulement 1500 années-lumière de la Terre.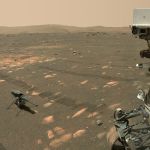 image suivante
Perseverance et Ingenuity en selfie
Au 46e jour martien de sa mission (le 6 avril 2021), le rover Perseverance a tendu un bras robotique pour prendre son premier selfie sur Mars.