Premier lever de Terre, l'image historique remasterisée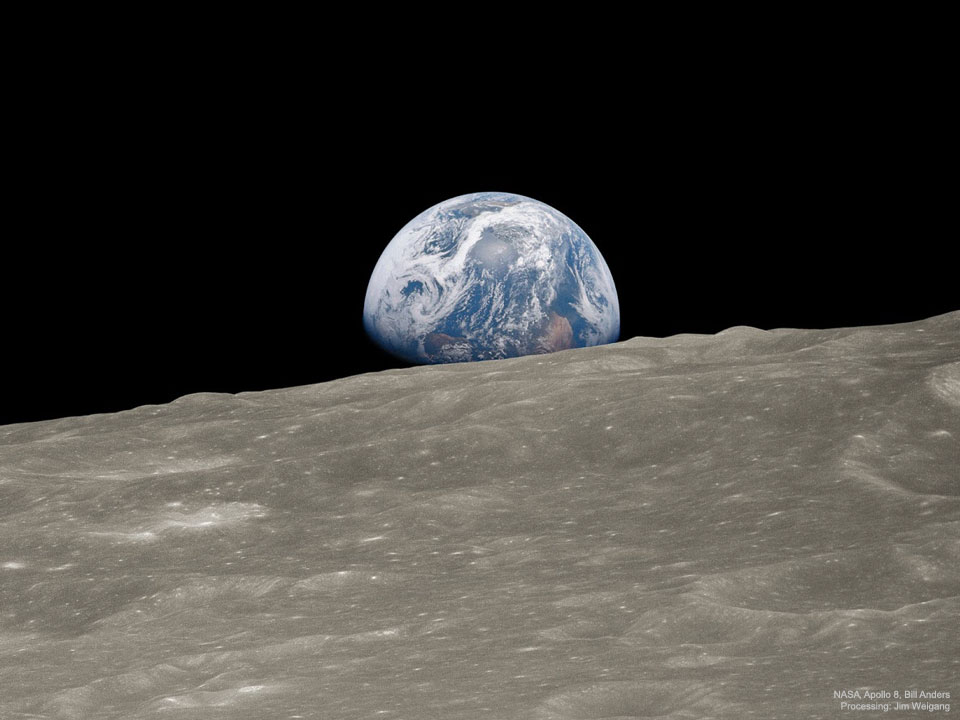 Crédit de l'image :
NASA
,
Apollo 8
Crew,
Bill Anders
 ;
Traitement et License
 : Jim Weigang
"OMG ! Regardez ce paysage là-bas ! Voici la Terre qui se lève. Wow, c'est beau !" Peu après cette déclaration historique, il y a 50 ans aujourd'hui, l'une des images les plus célèbres jamais prises était immortalisée depuis l'orbite de la Lune. Désormais connue sous le nom de "lever de Terre", cette image emblématique montre la Terre s'élevant au-dessus du limbe de la Lune, telle que l'a prise l'équipage d'Apollo 8. Mais l'image bien connue du lever de Terre était en réalité la deuxième image prise de la Terre au-dessus de l'horizon lunaire, et elle était juste la première réalisée en couleur. Avec la technologie numérique moderne, toutefois, la véritable première image du lever de Terre - à l'origine en noir et blanc, donc - a été remasterisée pour obtenir la résolution et la couleur combinées des trois premières images prises. Voyez donc ! Cette image est un gros plan de l'image dont parlait Bill Anders, membre de l'équipage d'Apollo 8. Grâce à la technologie moderne et au génie humaine, nous pouvons maintenant le voir. (Remarque historique : une image différente en noir et blanc de la Terre, située derrière le limbe lunaire, avait été prise par la sonde Lunar Orbiter 1 deux ans plus tôt.)
L'image d'astronomie du jour (Astronomy Picture Of the Day - APOD)
Traduction réalisée par Patrick Babayou
D'autres images d'astronomie...
Ailleurs sur le web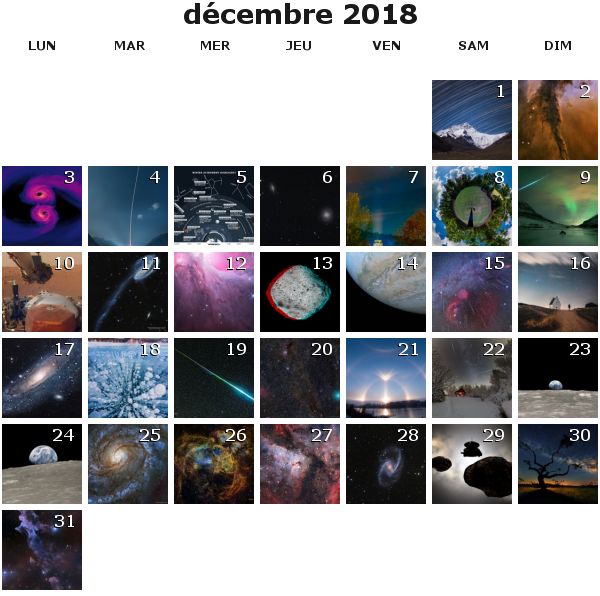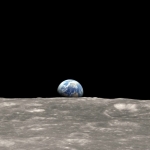 image précédente
Lever de Terre, une reconstitution en vidéo
Les photos réalisées par l'équipage d'Apollo 8, en orbite autour de la Lune il y a 50 ans, ont été assemblées pour créer cette vidéos du lever de Terre
image suivante
M100, galaxie spirale de grand style
La galaxie M100 (NGC 4321) est l'un des plus éminents de l'amas de la Vierge, située à 56 millions d'années-lumière, et a permis d'estimer l'âge de l'univers