Le mystère de l'amas de la Balle
Image Crédit: X-ray: NASA/CXC/SAO; Optical: NASA/STScI, Magellan/U.Arizona; Lensing Map: NASA/STScI, ESO WFI, Magellan/U.Arizona; Sonification: NASA/CXC/SAO/K.Arcand, SYSTEM Sounds (M. Russo, A. Santaguida)
L'amas de galaxies de la Balle engendre des effets de lentille gravitationnelle si puissants qu'il est généralement présenté comme un indice très probant de la théorie de la matière noire, laquelle rassemble le plus de suffrages parmi les astrophysiciens. Des hypothèses alternatives sont cependant formulées par d'autres chercheurs, notamment celle de la gravité modifiée, qui pourrait expliquer certaines des caractéristiques dynamiques de cet amas sans recourir à l'hypothèse de la matière noire, et même fournir un scénario plus probable à sa formation. A l'heure actuelle, les deux approches sont en concurrence pour expliquer les observations. Cette image est une fusion de données obtenues par les observatoires spatiaux Chandra et Hubble. Le rouge a été retenu pour visualiser le rayonnement X émis par le gaz chaud, et le bleu est censé représenter la distribution de la matière noire. La sonorisation a été codée de façon à produire des sonorités graves au niveau de la matière noire, médianes pour la matière visible, et hautes pour le rayonnement X. La controverse sur la quantité de matière contenue dans l'amas de la Balle n'est pas prête de s'interrompre alors que de nouvelles données s'accumulent, enrichissant les simulations numériques et les analyses.
L'image d'astronomie du jour (Astronomy Picture Of the Day - APOD)
Traduction réalisée par Didier Jamet
Dans notre dictionnaire de l'astronomie...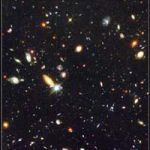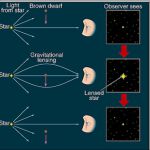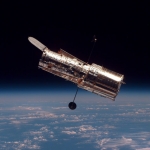 à lire aussi...
Le télescope spatial Hubble
Mis sur orbite par la navette spatiale en 1990, où il se trouve libéré des turbulences de l'atmosphère, le télescope Hubble a permis de grandes découvertes
D'autres images d'astronomie...
Ailleurs sur le web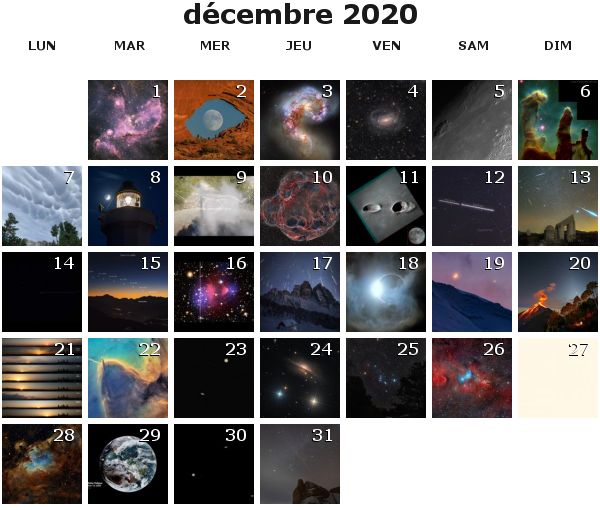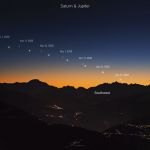 image précédente
La grande conjonction Saturne-Jupiter
La grande conjonction de 2020 a ceci de spécial que les deux géantes du Système solaire n'ont jamais été aussi proches l'une de l'autre depuis 1623.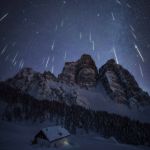 image suivante
Retour sur la pluie d'étoiles filantes des Géminides
Cette image rassemble 35 photos individuelles prises en l'espace d'une heure peu après minuit le 13 décembre 2020 dans les Dolomites italiennes.