L'affaire de l'amas de la Balle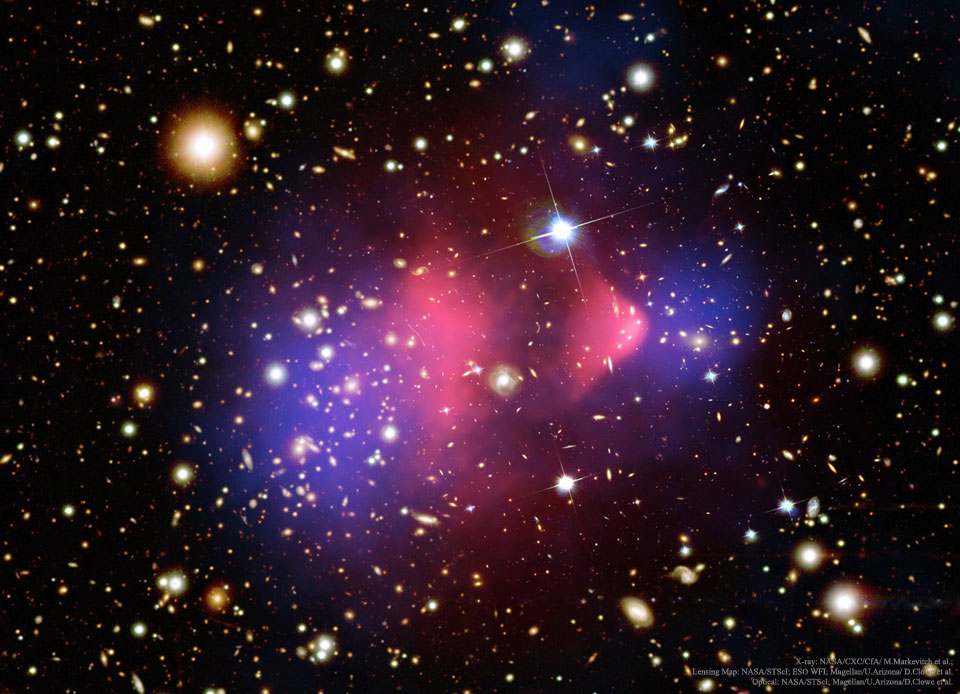 Image Crédit:
X: NASA/CXC/CfA/
M. Markevitch
et al.;
Lensing Map: NASA/STScI; ESO WFI; Magellan/U.Arizona/
D.Clowe et al.
Optique: NASA/STScI; Magellan/U.Arizona/D.Clowe et al.
Cet amas de galaxies particulièrement massif (1E 0657-558) exerce des effets de lentille gravitationnelle sur des galaxies situées à l'arrière plan. Ces effets ont été interprétés comme un fort indice d'une théorie très en vogue depuis plusieurs décennies : cet amas contiendrait de grandes quantités de matière sombre. Cependant des analyses récentes semblent indiquer une autre possibilité, celle d'une modification de la gravité, qui pourrait expliquer la dynamique de l'amas sans aucun recours à cette insaisissable matière noire, et fournir un scénario finalement plus probable. À l'heure actuelle, les deux hypothèses sont en compétition pour expliquer les observations, matière invisible contre gravité modifiée. Le duel est crucial car un exemple inattaquable de l'existence de la matière noire suffirait à démentir la simplicité des théories de gravité modifiée. Dans un avenir proche, la bataille sur l'amas de la Balle n'est pas près de cesser alors que de nouvelles observations, simulations numériques et analyses sont menées. Cette image est issue d'une collaboration entre les observatoires Chandra, Hubble et Magellan où le rouge trace le rayonnement X émis par le gaz ultra chaud, et le bleu est censé représenter la distribution scindée de la matière noire.
L'image d'astronomie du jour (Astronomy Picture Of the Day - APOD)
Traduction réalisée par Didier Jamet
D'autres images d'astronomie...
Ailleurs sur le web