New Horizons croise Pluton et Charon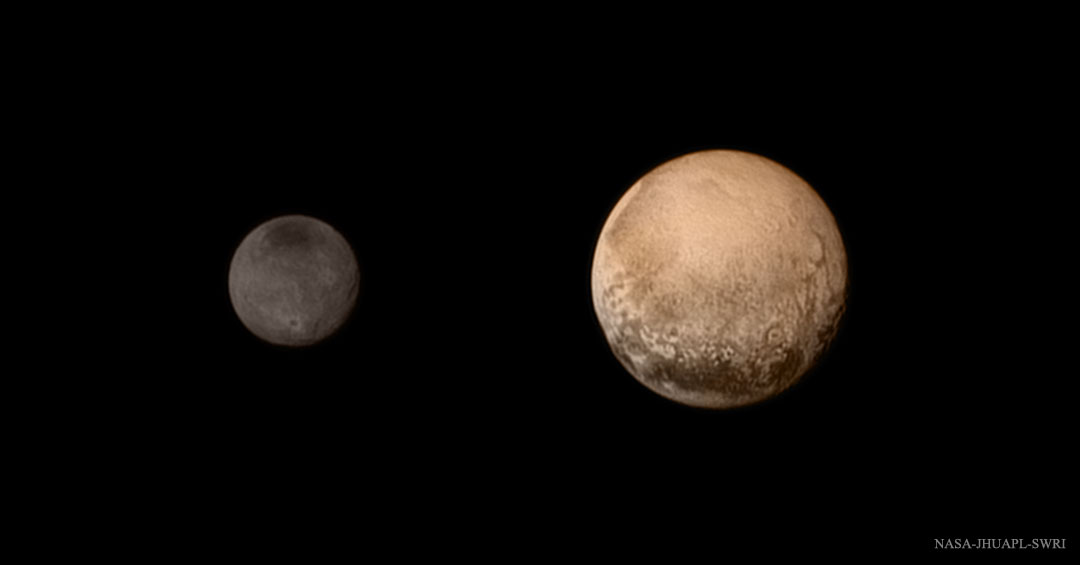 La sonde New Horizons survivra-t-elle à l'aventure ? Nous le saurons d'ici quelques heures, après que New Horizons sera passée à 11h50 T.U. au plus proche de Pluton. Afin de tirer le meilleur parti possible de ce survol, New Horizons a été programmée pour perdre intentionnellement tout contact avec la Terre jusqu'à 01h00 T.U. le 15 juillet. D'ici là, une bonne partie de l'humanité retiendra son souffle jusqu'à recevoir confirmation que la sonde de la taille d'un piano a bien repris contact avec les stations de réception terrestres. New Horizons commencera alors à renvoyer de nouvelles données à propos de ce monde resté parfaitement mystérieux depuis sa découverte il y a 85 ans. Cette image est un montage de Pluton et de sa lune Charon telles qu'elles apparaissaient à New Horizons il y a trois jours, révélant déjà de nombreux détails sur les deux mondes.
L'image d'astronomie du jour (Astronomy Picture Of the Day - APOD)
Traduction réalisée par Didier Jamet
D'autres images d'astronomie...
Ailleurs sur le web