La Mégalopole de la Côte Est vue de l'espace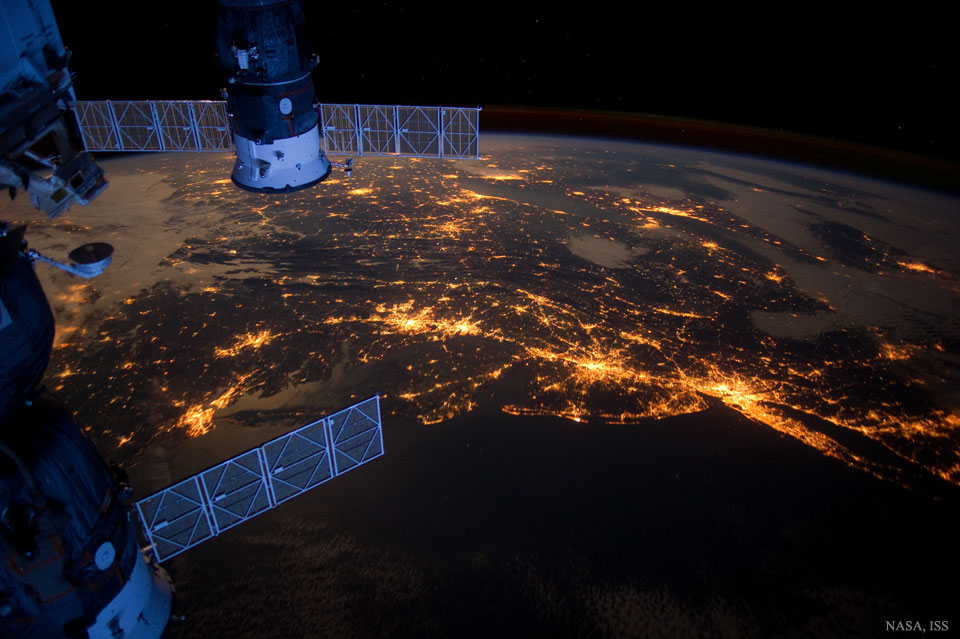 Les villes du nord-est des Etats-Unis sont tellement éclairées la nuit qu'il est possible de les identifier depuis l'espace. De droite à gauche nous pouvons reconnaître New York, Philadelphie, Baltimore, Washington, Richmond et Norfolk. Seule manque l'extrémité Nord de cette mégalopole, Boston. Cette image a été prise en 2012 depuis la Station spatiale internationale. Au premier plan, deux vaisseaux cargos russes déploient leurs panneaux solaires. Vous avez sous les yeux environ 20% de la population des Etats-Unis, qui se concentrent sur seulement 2% de leur superficie. Cette conurbation est également appelé le Couloir Nord et fait partie de la Côte Est. Environ 10% des plus grandes multinationales ont leur siège dans cette région. La quasi continuité de l'éclairage urbain le long de cette côte semble vérifier une prévision des années 1960 qui annonçait la fusion de ces villes en une vaste mégalopole.
L'image d'astronomie du jour (Astronomy Picture Of the Day - APOD)
Traduction réalisée par Didier Jamet
D'autres images d'astronomie...
Ailleurs sur le web